{Copyright (C) 2011 Solid Rock Baptist Church All Rights Reserved}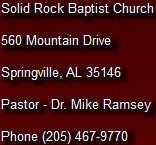 Solid Rock Baptist Church

560 Mountain Drive

Springville, AL 35146

Pastor - Dr. Mike Ramsey

Phone (205) 467-9770
Sunday School -- 10 AM

Sunday Worship - 11 AM

Sunday Evening -- 6 PM

Wednesday Night -- 7 PM
Solid Rock Baptist Church
The end of your search for a friendly church !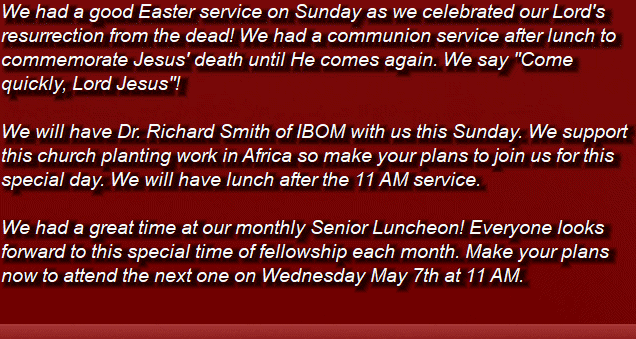 We had our annual Anniversary Sunday on Nov 5th and had a good crowd for both the morning and evening services. Everyone especially enjoyed the presentation of our church history. Click on the link below to download and see our history yourself !!!




Please remember Mrs. Reeves in your prayers. We are happy to report that she has been able to attend church again.

Brother Joe Youngblood is continuing a Sunday School series on Dispensational truth and we hope you will check it out on our web site.