{Copyright (C) 2011 Solid Rock Baptist Church All Rights Reserved}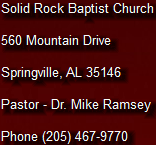 Solid Rock Baptist Church

560 Mountain Drive

Springville, AL 35146

Pastor - Dr. Mike Ramsey

Phone (205) 467-9770
Sunday School -- 10 AM

Sunday Worship - 11 AM

Sunday Evening -- 6 PM

Wednesday Night -- 7 PM
Solid Rock Baptist Church
The end of your search for a friendly church !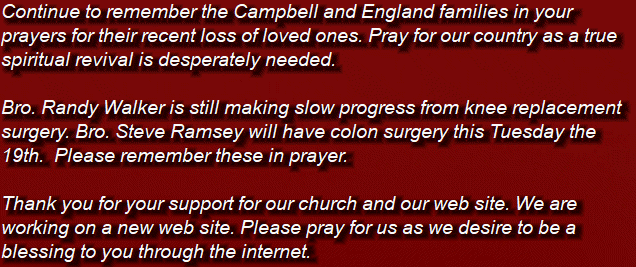 I am glad to be back and able to update our web site again! My wife had a stroke and I have been out of pocket to deal with the issues surrounding her condition. Continue to pray for her as she is still in ICU. Thanks !!!!

We are continuing the Sunday School video series on the charismatic movement.

We hope everyone is having a great summer !!!!!