{Copyright (C) 2011 Solid Rock Baptist Church All Rights Reserved}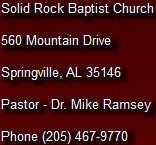 Solid Rock Baptist Church

560 Mountain Drive

Springville, AL 35146

Pastor - Dr. Mike Ramsey

Phone (205) 467-9770
Sunday School -- 10 AM

Sunday Worship - 11 AM

Sunday Evening -- 6 PM

Wednesday Night -- 7 PM
Solid Rock Baptist Church
The end of your search for a friendly church !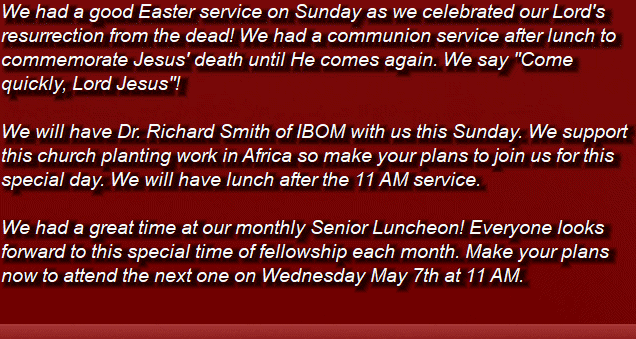 We hope everyone is having a good start to the summer and will include the Lord's house in your vacation plans. Too many people "vacate" the Lord during their vacation time!

Please remember Mr. & Mrs. Bill Newton in prayer. He is has been in the hospital and his family is trying to get him placed where he can have proper care.

We continue with Brother Mike teaching a Sunday School series about the church. Check these lessons out on our site !