{Copyright (C) 2011 Solid Rock Baptist Church All Rights Reserved}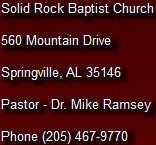 Solid Rock Baptist Church

560 Mountain Drive

Springville, AL 35146

Pastor - Dr. Mike Ramsey

Phone (205) 467-9770
Sunday School -- 10 AM

Sunday Worship - 11 AM

Sunday Evening -- 6 PM

Wednesday Night -- 7 PM
Solid Rock Baptist Church
The end of your search for a friendly church !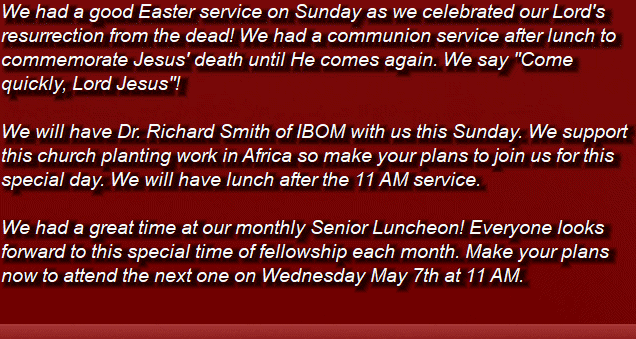 We thank all of our friends on the internet for your prayers and support for the ministries of our church. We appreciate your emails and requests for prayer. We do add all of the names to our prayer list that we go over each Wednesday night.

We are planning another family day on August 20th. Make your plans to visit and join us for lunch after the service.